Breaking: Paris Attack Mastermind Shot and Captured
Paris attacks suspect Salah Abdeslam has been wounded in the leg and arrested in a raid in Brussels.
Shots were heard in the Brussels suburb of Molenbeek as the raid took place.
Earlier, Belgian police said fingerprints of Paris attack suspect Salah Abdeslam were found in a Brussels flat raided this week.
Paris attacks suspect Salah Abdeslam has been wounded and arrested in a raid in Brussels, officials say.
They said Abdeslam, who has been on the run since the November attacks, was wounded in the leg as police moved in on a flat in the Molenbeek area.
"We got him" said Theo Francken, Secretary of State for Asylum and Migration, on Twitter (in Flemish).
Abdeslam is a key suspect in the jihadist attacks in Paris which 130 people died.
Abdeslam's fingerprints were found in a Brussels flat raided on Tuesday.
But Belgian prosecutors told the BBC it was not clear exactly when he was at the flat because the prints could not be dated.
One man – identified as Algerian national Mohamed Belkaid and linked to the Paris attacks – was shot dead during the raid in the southern Forest suburb on Tuesday.
Officials said at the time they believed as many as two other suspects may have escaped.
Abdeslam, a 26-year-old French national born in Brussels, had lived in Molenbeek before the 13 November attacks.
He is believed to have returned to Belgium immediately after the attacks, in which his brother Brahim blew himself up.
He has been the subject of a massive manhunt since the attacks, claimed by militants from the so-called Islamic State (IS) group.
Officials have identified most of the people they believe to have carried out the assaults.
Most of the suspects either died during the attacks or were killed in subsequent police raids.
Parts of Brussels were sealed off for days after the Paris massacre amid fears of a major incident. A number of suspected attackers lived in the Belgian capital.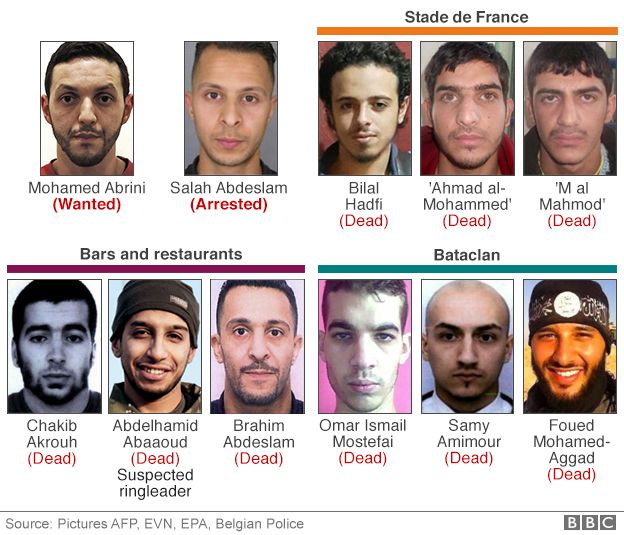 Police have also carried out a series of raids in the city.
Source: BBC