MTN Pays $251 Million Toward Record Phone Penalty
MTN Group Ltd., Africa's largest mobile-phone company, paid 50 billion naira ($251 million) toward a record $3.9 billion fine in Nigeria for missing a deadline to disconnect subscribers and will continue negotiations with the regulator.

The payment to the Nigerian government was made "on the basis that this will be applied toward a settlement, where one is eventually, hopefully arrived at," the Johannesburg-based company said in a statement on Wednesday. MTN also agreed to withdraw the matter from the High Court in Lagos as part of efforts to reach a settlement, the company said.
"This is a most encouraging development," MTN Nigeria Chief Executive Officer Ferdi Moolman said in an e-mailed statement. "It demonstrates a willingness and sincerity by both parties to work together toward a positive outcome."
MTN was hit with the penalty after failing to comply on time with an order to disconnect 5.1 million customers deemed by the regulator to be unregistered in Africa's most populous country. Nigeria has sought to cut off service to some users as they fight crime and in a country with poor identity records. The insurgent group Boko Haram's campaign to establish its version of Islamic law in Nigeria has left thousands of people dead since 2009.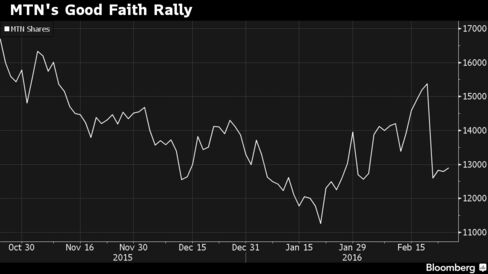 While the payment is about 6 percent of the total fine, it's still "a ton of money," Sasha Naryshkina, a director of Johannesburg-based money-manager Vestact, said by phone. The outlay represents about 27 percent of MTN's annual earnings before interest, depreciation, taxes and amortisation in Nigeria, the company's biggest market, he said.
MTN shares erased declines and rose 0.9 percent to 129.05 rand as of 3:24 p.m. at the close in Johannesburg. The stock has declined 32 percent since the fine, originally set at $5.2 billion, was made public on Oct. 26.
Executive Chairman Phuthuma Nhleko is in Nigeria and continuing to lead the negotiations with the regulator, the company said. MTN is also in talks with the Nigerian Communications Commission over the lifting of sanctions imposed on the company for failing to meet phone-service quality standards.
Source: Bloomberg Business